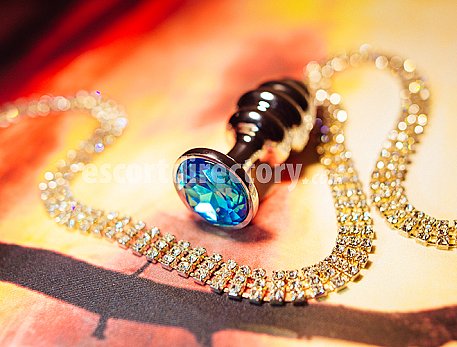 Valentine's Day is almost upon us, dear escorts. Time to clear your schedule and expect plenty of dates during this period. Clients will want to be treated like gods and goddesses by a sexy companion, so put on your tightest dress or elegant pants and shirt, wear your most revealing underwear and get ready to sweat the night away!
We will tell you how to spend the most romantic time of year and make it unforgettable. Don't worry, we won't bore you with tips and tricks on how to pick the most beautiful bouquet of roses, the most delicious chocolate or the most expensive champagne. Let's begin, shall we?
Go for a kinky twist with Chasity
For those of you male clients with fetishes, prepare to experience the pleasure that comes with Chasity. That BDSM mistress you booked for Valentine's Day can't wait to punish you with this delightful instrument in her dungeon. All she has to do is to strap you in, tell you something that turns you on and you'll feel your pulse starting to rise as you reach the climax. If your date doesn't have a Chasity, offer to buy one for her and don't forget to bring it with you when you meet her. Have fun!
Stimulate that clitoris, baby!
Male and female escorts, ready to try something new with the lady who booked you for Valentine's Day? Just wait till you grab the Satisfyer Pro Penguin USB Rechargeable Clitoral Stimulator from your nightstand and use it on her. This cute sex toy makes foreplays great again, so use it to set the mood right, then bring her to climax using your fingers, tongue or dick.
Trust us, your client will experience the most amazing orgasms in her life and she'll want to come back for more. We know, we know, we said we wouldn't mention roses anywhere in this post, but wouldn't a Penguin clitoral stimulator look good in the bouquet of roses you bring with you to her house?
Make anal fun with a special toy
If you have a client who's ready to try anal for the first time, prepare some silicone-based lube and a metal buttplug. Now lube the toy up. All set? Agree on a safe word with your date and start using that backdoor. Can you hear moans of pleasure? Go at it as slow or as fast as your client wants. If they don't feel comfortable, you should stop and use their favorite position instead, no harm done.
Go for the Fifty Shades Freed experience
Do you like the Fifty Shades movies and want to try their branded sex toys? We promise they're simply amazing. You will love the Fifty Shades Freed Pleasure Overload 10 Days of Play package. Open it on the 14th of February and experiment all your favorite movie scenes with your client(s).
Before you open the package, ask for consent. Now that everything's settled, you can begin a very hot encounter. Tie your date up with those silky-smooth bed ties, trace the cold bullet all over their sweaty skin, enter the backdoor with the butt plug and so on. Do it in the bathroom, your room, the kitchen counter, anywhere really. Satisfaction guaranteed!
We vibe, you vibe, everyone vibes
The people from We-Vibe have a long history of making some amazing adult toys. If your client likes kinky stuff, the We Vibe Jive is the perfect pick. Tap into your risqué side and use it when you're at a restaurant. It's going to be so exciting knowing that you do something forbidden with so many people around.
This ultimate sex toys can be controlled with a smartphone. Male companions: watch your partner look at you while getting aroused from it, and spank that monkey as you lock eyes with her. It's going to be a win-win situation for both you! Female escorts, you can do the same as you rub your G-spot secretly with no one from the next table knowing about your sensual activities with your client.
We wish you a happy and pleasurable Valentine's Day with the most exciting adult toys in town.