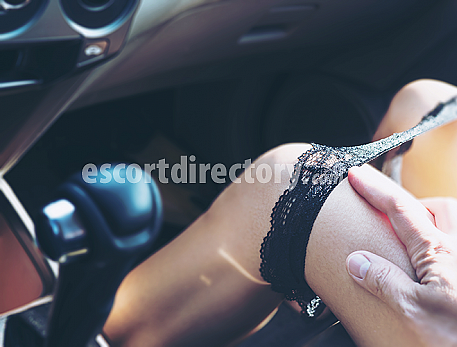 New year, new ways to have fun with your date. Have you ever tried breaking cherries with a guy or a girl in a car? If you have but it's been ages since, you should definitely give it another try. In case you've never gotten down and dirty in a car, how about you try it for the very first time this year?
Keeping things fresh and fun is always very important in the escorting world if you wanna make a great first impression or if you'd just like to try something new with your partner(s). If we convinced you to give car sex a go, let's see some of the best positions you can experiment with during your next booking.
Oh, but before that: there are certain precautions to keep in mind before trying any of them. Number one: the vehicle must be in park with the keys out of the ignition. Number two: have one or more towels close by for both you and your date so you can clean yourselves and the seats after bumping uglies. Last but not least: better do it when it's dark outside if you want to steer clear of curious eyes and avoid hot weather.
On to those sex positions now!
Sun roof on
Does your date's car have a sun roof? Perfect. Tell your client to stand with one of their feet on the passenger seat and the other one in the driver's seat. While they do that, you'll have to sit up on the sun roof's edge and face him or her. Or you could lie on your back instead so that your partner enters you. The car's gonna rock just like one of those waterbeds, ladies and gentlemen.
Wait, there's another fun scenario to try. Ask your client to sit in the passenger seat. Now make sure you stand out of the roof with both your feet planted on either side of his or her hips. Your thighs should be wrapped around your partner's face. It's an amazing way to let her or him perform some sweet cunnilingus while you moan away.
Cowgirl with a twist
For this position, you need to make sure the driver's seat is pushed back and reclined all the way down. Your date has to lie on it and you need to sit on their lap with your face out the car's front. Remember: keep both your hands on the steering wheel. This will make it easier and more comfortable to go up and down his dick or her strap-on. Major turn on and orgasm-inducer.
Doggie style fun
Otherwise known as rear-ended, this sex position works wonders in a car, thanks to its medium height and confined space. You have to get on your knees and hands in the back seat. Your date will have to stand either on the passenger seat (make sure it's pushed as far as it goes) or outside the car's door. Let the grinding begin!
Up on the roof
For oral sex purposes, nothing says aaahhh like roof sex. First things first: lie on your back on the roof. Your ass has to be near the edge. Place your thighs on your client's shoulders and… get ready for a trip to pleasure land any minute now.
If it's summer and you don't want to burn your butt, lay that towel we mentioned out on the roof before the show starts. Have fun!