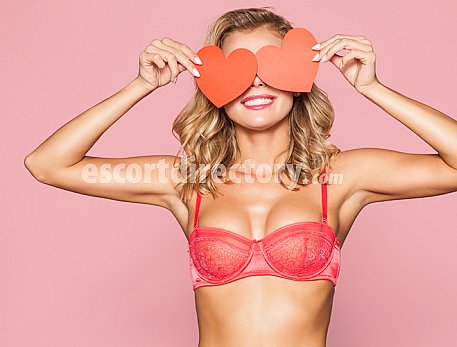 You want to surprise your favourite escort with a special present, but you don't know exactly what to get her? Well, first of all, most escorts have a wish-list full of gift suggestions, prepared for their regular clients, that are looking to do a nice gesture for them, but don't know exactly what to buy.
So, you may want to start by asking her frankly, if she has such a wish list and if she is willing to share it with you. This way, you'll have a tone of possibilities to choose from, gifts for all budgets and styles, from books, to lingerie, sex toys, purses, shoes, clothes, spa vouchers and so on.
But, if your dear companion happens not to have such a list prepared, and you still want to offer her a surprise present, then there's one sure way to go: the luxury lingerie store!
Luxury lingerie is always the answer!
When choosing a gift for an escort, you must be careful about the type of gift, the value and the meaning of the present you want to offer. Because an expensive jewellery offered after just a couple of bookings, it might be overly-generous from your part and may also scare her a little, making her feel pressured into accepting your future sexual requests. The same thing applies to deeply personal presents. They may be just too much and may be even considered a form of privacy violation from your part. For example, following her posts on social media and picking up clues regarding her personal life and most private wishes and buying something related to that. It is a little stockerish and frightening!
So, keep it light, casual and general and your present will be much appreciated.
Buying your regular escort a present is a very attentive thing to do, especially if you are extremely pleased with her services. A nice, well-thought gift will make her feel desired, appreciated, and pampered. And this is what you want to offer her, isn't it? Some pampering as a reward for all the attention that she offered you before.
Tips on buying her the right lingerie
1. Always choose quality over quantity!
A lingerie set is such a delicate and intimate present, that must also ooze sensuality, quality and elegance and you only get that by investing a little more in a luxurious lingerie set, that will please her and satisfy you later on ????.
2. You're looking for sex-appeal, not comfort!
Even if a set of cotton pyjamas, or some fluffy stockings might be a more practical gift, buying a gift is not about comfort, is about making the companion you're buying it for, feel sexy, adored and spoiled. So, stop thinking practically and buy something pleasing to the eyes and arousing to the senses.
3. Lace and satin are the way to go!
Always choose a softer, more sensual material, like lace, satin or even velvet! And try to keep it classy, so don't go for neon bright colors, or trashy, slutty looks. You want to make your escort feel appreciated not low level, so, buy something sexy, elegant and stylish, in colors like red, black or white.
4. You don't know her size? Go for a safe gift!
If you have uncertainties regarding her lingerie measurements, you can always win by going for the safe choices, like a nice, silk robe, a satin nightgown or a sexy chemise. As long as the colors are right and it feels amazing to the touch, it doesn't matter if you are a little wrong with the size. And don't forget: always keep the receipt in case you have to change the present or return it!
5. Give the saleswoman some pointers
If you've never bought lingerie before and you feel lost in the lingerie department, all you have to do is give the saleswoman some pointers, like: what kind of personality does she have, what colors does she love, what color is her hair and skin, if she prefers thongs or bikini, if you've seen her in perfectly matched lingerie pieces or she is a mismatched type of lady, if she has a big bust and so on.
All those are some great pointers that could save you in a situation when you really don't know what to choose.
Take all that into consideration, next time you're planning on buying some high-end lingerie for your escort lady and you will not fail!