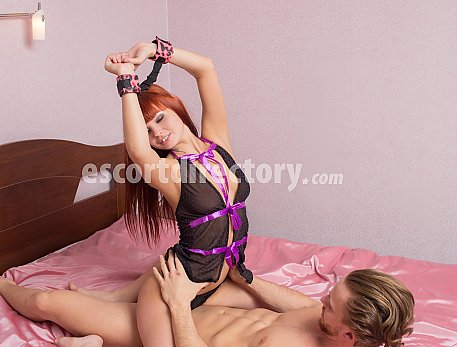 All professional escorts have a "dating-kit" that they are using in case of emergencies or necessity, because you never know when you may need a bigger condom, a flavoured lube, a kinky butt plug or a pair of edible undies.
And we can all agree that, from all the things mentioned above, the most important item of them all, the one that has to be in every escorts "dating -kit" is the lubricant.
Natural lubrication is as rare as a unicorn for an escort, especially if there is no chemistry at all with the client or the escort has one date after another, scheduled in one day. So, that's way, having lube with you is vital in order to get things going.
Our TIP: Use lube before meeting with your date! This way you create the appearance of natural wetness and the client thinks you too are hot and horny just like he is.
Another important thing about having your own lube with you is that you get to buy the type of lube that you like and that is well accepted by your body. This way you avoid allergies or other bad reactions to the lubricant used.
Remember that choosing the right lube is like shopping for the perfect pair of shoes. You have to test them in order to see if it fits your needs! The lube options are countless but don't let yourself discouraged by the large selection.
Read all about them and choose the one that is best for all of your senses: a lube that feels good on the skin, smells nice, has a good taste, doesn't causes you allergies and doesn't affect the toys you might be using!
Keep in mind the fact that lubes are divided in three main categories: silicone based, water based and oil based. There are also two other small categories, not so extended as the ones mentioned above: the natural, self-made lubes and the novelty lubes.
1. The silicon based lubricants
Those lubricants offer a fantastic sensation on your skin – we are talking about a nice, silky feel. It lasts longer than any other type of lube, is great for anal and is safe to be used with condoms. It is also great to be used in the shower or for under-water sex!
But, keep in mind that this type of lube, based on silicone, has a nasty effect on silicone sex toys, making them disintegrate.
Also, silicone lube is not that easily washable, requiring soap and water in order to be perfectly removed from the skin and the sheets.
2. The water based lubricants
This type of lube is thinner and easier to clean but it doesn't last as long as the silicon based one and it can also become sticky. The water based lube requires multiple applications during sex and because of its texture is not great for anal.
It can be used with condoms and it is perfect if you intend to use some sex toys during your wild date.
3. Oil based lubricants
The oil based lube is a perfect option for those that are sensitive to chemicals because it contains coconut oil and olive oil. But the oil based lube can cause infections in your genital area so make sure you thoroughly wash yourself after using it.
The oil based lube must not be used with latex condoms!
Novelty lubricants on the market with super weird flavours!
The novelty lubes can include the flavoured ones, the arousal ones and the warming ones. But the only thing that those lubes have in common is the lots of chemicals included in their formulas.
But you can totally try them out once, for fun!
Weed Lube – it contains coconut and marijuana oils and it is created to increase the sensitivity and the relaxation.
Bacon Lube – this is a lube perfect for meat lovers and it is definitely something you need to try at least once in your life.
Toasted Nuts Lube – it's a macadamia-based lube that seems to make people really aroused. The explanation of the producers is that the smell brings back good memories and helps you relax.
The Cocktail Lube – a combination of vodka, cranberry juice and peach schnapps it is sure to put you into the right mood.
Mint Chocolate Chip – perfect for those that have a passion for sweets, this sweet delight will surely make you put some extra effort into your oral performance.
The options of lubricants are countless on the market that's why you have to take your time, read the labels, test them and be willing to invest in a good quality lube.
And also, as we have said before, always have your own lube when you go on a date! This way you are sure that you are using the good stuff!