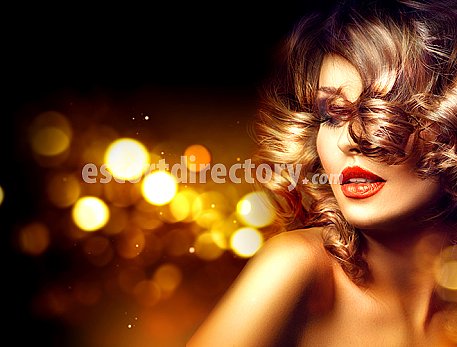 Many of you, dear escorts, don't mind uploading photos where your faces can be seen by potential clients. There are, however, many other pleasure providers who want to keep their visual identities safe. Only when customers decide to book them will they reveal their faces. Why do that? Plenty of reasons. These companions don't want to be accidentally found out by family or friends who don't know what they do for a living. Each of us is different and has their own logic for doing or not doing something, and we should respect that.
Today we're going to teach those of you escorts who want to blur their physiognomy how to do it. It's not hard at well, we assure you. Let's begin!
1. Partially hide your face in selfies
The only thing you need for this is your smartphone. Wear that sexy lingerie which accentuates your breasts so well, put some glasses on or a scarf over your eyes (make sure you actually see through it), strike your naughtiest pose, and take that selfie.
Instead of scarves or glasses, you can use your hands to partially hide your features, but make it seem natural. Smile sweetly or in a seductive manner, look away, flirt with the camera, and make it seem as if you're shy instead of making it look like you want to be invisible.
2. Show your features from the side
This method also requires only your smartphone. Instead of letting clients see your whole face, look to your right or left side, so that only part of your nose, lips, and eyes is visible. Think of it as a mugshot, it's one of the best ways to keep things both mysterious as well as private. That customer who looks at your photos for the first time will definitely want to see more of those full sensual lips and that cute upturned nose.
3. Use your hair to cover your face
Hire a professional photographer or, if you don't have the budget for it yet, ask a friend who owns a good camera. Put on a tight dress or a pair of sensual panties and bra, lay on the bed in an inviting position, and let your hair loose over your eyes so that only your lips and nose can be seen.
There are many little masks you can wear that will look great on you. You should, for example, try one made of dark lace or a Catwoman mask. If you don't like masks, a pair of sun glasses works, too. Mix it with a pair of sexy bikini, sit by the pool, and flaunt those hot curves of yours while the photographer/friend snaps away!
4. Look for special apps
You'll find so many great photo apps all over the Internet if you don't like the ones on your phone. We heartily recommend one called Photo Hide. It's simply perfect for blurring only your nose and eyes, something we strongly recommend. Don't hide your face completely and leave nothing to the imagination. You'll rob potential customers of the chance to fantasize about your face. If you're familiar with Photoshop, that's another good option to use.
Clients will always be interested not only in your looks, but also in your features. Don't worry, though, you WILL get calls even if you don't have photos of your face. However, we strongly recommend letting customers see your physiognomy, too, if you want to be popular. You can always blur your eyes, lips, or nose for safety reasons, but you should never hide your entire face. If you do that, you won't get as many bookings as you'd like.