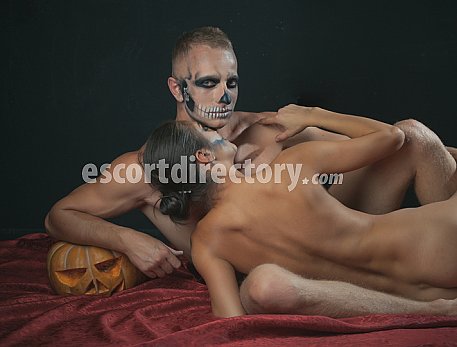 Halloween is the perfect holiday to let loose and go wild with the make-up, outfits, sexy lingerie, crazy sex toys and naughty new positions. So, make this Halloween special for your date, by opting for some interesting gadgets, meant to make this day scary sexy, in the best way possible.
Sexy tricks and treats for a night of scary good sex
What's sexier than a pair of obscenely naughty, edible panties, some delicious body paint that you can lick off your partner's naked and aroused body, or a slutty costume, ready to be teared apart from your hot, trembling body?
So, ladies, put your mind into it and come up with some mind-blowing ways of having fun in the sack. Your dates will surely appreciate it and you'll end up lavishing in compliments and gifts, as a token of your date's appreciation for the hard work you've put in planning everything.
Edible lingerie – what can be more erotic than your date tearing your panties with his teeth or using his mouth to get rid of your tongs or garter? Let the animal spirit hidden deep inside of him come to light and play, because there's nothing more sensual and arousing then him making his way to your wet thighs using only his tongue and teeth. So, slip under your kinky, Halloween costume, an edible garter or a pair of edible bikini and invite him to have a taste.
Edible liquid body paint – your date is an Avatar fan, or maybe he is a Start Trek geek? Then he will go bananas when he will see you wearing nothing but edible, liquid latex body paint. And what's even kinkier is the fact that it is all edible, so leave him cover you with kisses from head to toes and clean up the paint with his tongue!
Mints for an unforgettable oral sex – yes, you've heard it right, this Halloween the pleasure mints are a must in your sexy, lover's kit. Pop one in your mouth while going down on your sex partner and get ready to hear some very loud moans of pleasure.
Pumpkin flavoured massage oil – what can be more in tune with this autumn celebration if not the pumpkin and spices, edible, massage oil? So, get one for yourself and spoil your dates with a sensual pumpkin flavoured massage. It is a fun thing to do, especially when you are on a date with a new client and you need something to break the ice and help him relax.
Vibrating panties – even if these is not an item especially designed for Halloween, the vibrating panties can be an incredibly hot surprise you could offer your date. Just envision the following scenario: you and your date having dinner at a fancy restaurant, when you hand him over the remote to your vibrating panties, telling him to go for it and have some fun there and then! The sock and surprise on his face will worth the effort and we bet that you'll surely turn that date into a regular.
And because is Halloween, a night when you can be anything or anyone you want, go crazy with the costumes and get creative with the sex positions!
Try the candy blowjob!
Yeah, that's really a thing and it involves some small, pebble like candy that you can put in your mouth while going down on your partner. And if he is into special sensations, use some minty and cinnamon flavoured candy. The candy in your mouth will roll up and down his penis, offering him an increased sensation during the oral stimulation.
Ride him like a witch rides her broomstick!
This is so much fun, especially if you go for the bad witch outfit or for the green, edible, latex paint. All you have to do is make him lie down on a narrow surface, a coffee table is best suited for such naughty games, and ride him like he is your broomstick, while facing his feet. Move your hips in circles, like you are mixing a mysterious love potion into the cauldron, and move up and down his penis, like you are riding a horse. It will be such a fun and erotic experience, that he will replay in his mind for many nights to come.
Catch him in your web!
What better time to try the spider pose if not on Halloween night? You just have to make him sit on a wide chair, while you climb in his lap, with your feet on each side of his ass. Grab his shoulders with your arms and show him a view he'll never forget! Move up and down and let him enjoy the sight of your naked body, covering him!
These are a few of our themed sex toys and positions you could try this Halloween, with your dates. The most important thing is to be comfortable while dressing up and doing all kind of crazy moves and to have fun with your partner for the night!