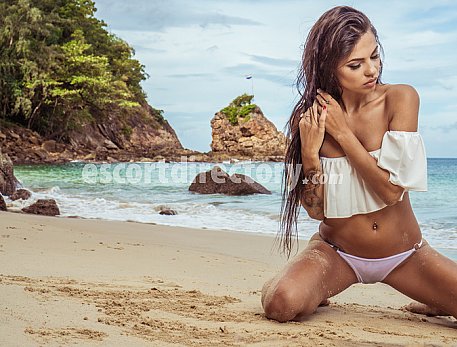 You're looking to turn the heat up in the bedroom, experience new erotic pleasures in the company of a hot, naughty escort and get it all out of your system by turning all the wet dreams into reality, without the fear of being caught by your life partner, spouse or maybe be seen by someone you know? Then a sex retreat is definitely something you must try this summer!
This is the new Must when it comes to sexual liberation, so try it yourself and enjoy a relaxing time out, next to a steaming hot, professional lover.
There are enchanting sex retreats all around the world but only a few are worth mentioning, if you are looking to indulge your senses with the crème de la crème of the erotic world!
Among those amazing sexual escapade locations that exist out there, we mention:
1. The Illicit Retreat
This retreat is an island dedicated to those looking to cheat on their life partners and never get caught! Exciting, isn't it? So, next time you want to have some alone time with your favourite escort, go on a "business trip" and let yourself in the capable hands of the Illicit Retreat team.
The Illicit Retreat is an island, 100 miles from Portsmouth, dedicated to carnal desires, lust, fetishes and all the wild pleasures of the night. The place is packed with apartments – each apartment has a bedroom, a dining room and a hot tub, offering you everything you can possibly want in a "sexcation".
Everything is an adventure even from the very beginning, because you will be taken to the island, in a helicopter, while being blindfolded so you that you have no idea where you are. You will also have to sign a non-disclosure agreement, because everything happens on the island, stays on the island. Then it's all about having uninhibited fun!
2. The Fellatio Café
Ok, this is not an actual sex retreat, but it can be a mid of the day sex releaser, and that's amazing news, especially during these stressful times we're living! So, Fellatio Café is similar to a regular café, but instead of delivering just a bill for you to pay at the end of your stay, it also delivers a happy ending, how cool is that?!
The Fellatio Café is opened in Geneva, but apparently one is about to open in London also! All you have to do is look over the menu, order your café selection and your blowjob partner. Yes, you've heard it right, the menu has also a list of hot fellatio givers for you to choose from!
Can you think of a better way to start the day? One fellatio and a coffee to go please!
3. The Orgasmic Enlightenment Retreat
A stunning location, where the lush greenery meets the crystal-clear water, the Orgasmic Enlightenment Retreat is located in Puerto Vallarta, Mexico. The only thing on your agenda, when attending this retreat is having mind-blowing, life-changing sex and the staff will do everything in their power for that to happen!
The retreat is a place where everything is about sex – rejuvenating sex practices, aphrodisiac cuisine, yoga and spa rituals that are going to open all your senses and offer you the sensual exploration that you are looking for!
During your stay here, with your hot escort date, you will be taught the Tantric and Taoist techniques of connecting with your partner, how to have incredibly intense multiple orgasms, how to perform the best oral sex in the world, how to build your stamina and how to fully enjoy yourself sexually and mentally!
Sounds amazing, right? So, give it a try and see for yourself if you can reach a state of erotic bliss!